Zundert & Free Canal Cruise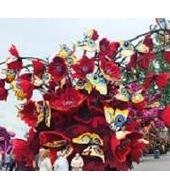 The biggest flower parade in the world takes place in Zundert –Brabant- on Sunday the 3rd of September.
We give you the opportunity to visit this once a year spectacle on a full-day tour from Amsterdam.
See marvelous floats totally made out of flowers passing by and revel in amazement while watching this from your prime location - right up front on reserved seating.


HIGHLIGHTS
• Full day trip to the largest flower parade in the world in Zundert, Brabant
• Enjoy the flower parade with guaranteed seats which give you the best views
• Lunch box included
• Professionally guided tour
• Enjoy a free 1-hour canal cruise in Amsterdam at anytime during your stay
• Pick up and drop off in central Amsterdam
WHAT CAN YOU EXPECT
Make your way to a centrally-located meeting point in Amsterdam for a 10am departure, then begin the approx.
2-hour trip
through typical Dutch countryside to Zundert- Brabant-, in a luxury touring car. Upon arrival we will distribute the lunch boxes and your guide will take you to the reserved seating area where you will have the best view of the flower parade passing by.

Zundert's flower parade is an annual explosion of dahlias. Zundert's village districts, made up of 20 teams, are engaged in a yearly competition to build the finest float to be judged by a professional and independent jury.
All summer long the floats are being built. By the end of August they are ready except for one important detail: the flowers. Of course, the dahlias can only be fixed on the floats at the very last moments, since they would wither if applied earlier. This is a challenging job that has to be performed within just a few days. Hundreds of volunteers are drummed up in every village quarter to work through the night to get their float finished just before the Sunday parade.

A professional jury ranks the floats and only the winner may stop at the second passage along the main grandstands, resulting in an emotional outbreak dubbed the 'Zundert jubilee'.


Fun fact: Vincent van Gogh was born in Zundert.
He enjoyed a privileged childhood in the village.
After the
3 hour flower parade
you will be escorted back to the bus for the return trip to Amsterdam. The day after you can enjoy the free 1 hr Amsterdam Canal cruise that is included when booking this tour.
Duration:
9 hours
Date & Time:
Sunday the 2nd of September 2018 at 10.00 hrs

Tickets sent by email!
Powered by Ticketbar